Ramie Turner

REALTOR

in Bismarck, ND
Associate Information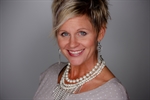 Professional Designations
REALTOR
Expertise Types
Condominiums, Manufactured Homes, Mobile Homes, New Homes, Residential, Single Family Homes, Townhomes
My name is Ramie Turner, Bismarck ND. I have been in the business of serving others through direct sales for over 15 years. Becoming a licensed Realtor has been a long-time desire and natural fit for me. Since purchasing or selling a home is one of the most important decisions you will make, I plan to create an experience that is comfortable and practical for sellers and buyers.
I grew up in a family of builders, realtors, and farmers. I learned early on to appreciate the efforts of labor and the dedication it takes when helping others. I will use these life lessons to help you in purchasing or selling your home. My passion for decorating and attention to detail are additional skills I will use to further assist you.
I am a busy mother of three school-aged children. They are active in a variety of activities and sports. I thoroughly enjoy attending their events and experiencing life with them. My husband and I enjoy weekends at the lake, watching football, family movie nights, going on walks and working on home and yard projects.
As your agent, I will work continuously to help make the process easier for you. I will communicate openly and frequently to keep you informed. You can trust that I will have your best interests in mind. I am a person of ability and integrity who desires to serve YOU!
As a full time professional real estate agent, I pride myself on offering superior personal service before, during and after your transaction. Knowledge, commitment, honesty, expertise, and professionalism are the cornerstone of my business. Let me earn your trust, your business and most importantly your friendship. Don't make another move without me. I guarantee you will see the difference quality service makes. I look forward to working with you!